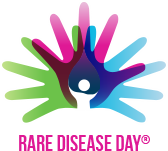 Rare Disease Day: 28th February 2017
Join us in making the voice of rare diseases heard!
Today marks Rare Disease Day, a day to bring us together to raise awareness of issues affecting people living with rare and orphan diseases, from all over the world.
Rare Disease Day Official Video 2017
Held on the last day of February every year, Rare Disease Day aims to raise awareness among the general public and decision makers about rare diseases and their impact on the lives of patients and their families. Since its launch in 2008, thousands of events have taken place throughout the world, reaching hundreds of thousands of people and generating a substantial amount of media coverage.
The theme of this year's Rare Disease Day is 'research', which acknowledges the crucial role this vital work plays in advancing the scientific knowledge of rare diseases. Today, we call upon researchers, universities, students, companies, policy makers and clinicians to do more research and highlight the importance of advancing potential treatments for the rare disease community.
Research is a fitting theme for Kyowa Kirin. We strive to contribute to the health and well-being of people around the world by creating new value for patients through the pursuit of advancement in life sciences and technologies. This means addressing the real needs of people living with rare diseases, by researching novel therapeutic options and responding to patients' needs.
Find out more about how you can get involved in local events, to raise awareness and make a difference to the lives of people living with rare diseases. Please visit www.rarediseaseday.org.